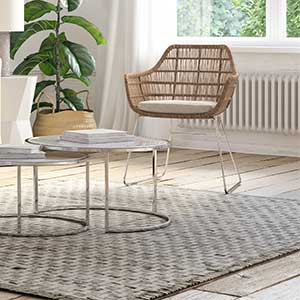 Tampa's Top Area Rug Cleaner
Need to get your area rug cleaned? Call us today to schedule a free pickup or visit any of our retail locations across Tampa Bay.
Professional Area Rug Cleaning Service
We have been providing area rug cleaning services to the Tampa Bay area for over 30 years. We provide a high-end cleaning surface that a vacuum and home cleaning supplies cannot provide. From hard to reach pet dander to grease and oil stains, it is critical for the health of your area rug to have it cleaned once a year. Vacuuming is important for keeping the top of the rug clean from debris, but deep stains and dirt will always fall into the rug, which requires professional cleaning of the rug to remove. In addition, our staff is properly trained to consider the condition of the area rug as well as the fabric in order to best clean it.
Types of Rugs We Clean
Oriental
Persian
Wool
Silk
Natural Fibers
Nylon
Polyester
Simple Pricing
Our prices start at $3 per square foot, so there's no surprise charge at the end of your cleaning.
Store Hours
Monday-Friday: 7am - 7pm
Saturday: 10am - 4pm
Sunday: Closed
Get our coupons & stay in the loop