Laundry pickup and delivery
Our best-in-class Launder & Press service will keep you looking your best. Get your laundry delivered to your door and experience our high-quality clothing care for yourself. 
Get $10 Off Your First Order:
How it works
Our Delivery Process
Sign up on our website. You'll be able to specify your laundry & dry cleaning preferences as well as schedule your first pickup
Leave your clothes out by 8:00AM in any bag. We'll return your order in a Sage Cleaners bag with your bag inside.
Relax & Get Clean Clothes
We will have your clothes back to you within 48 hours, so you can enjoy the saved time and money of not having to go to the cleaners.
Tampa's Largest On-Demand Pickup & Delivery Service
No Pickup Fee
We pickup & drop off your order for no extra charge using a simple text based process.

48 Hour Turnaround
We know you need your clothes fast, so we'll have them back within 2 days, guaranteed.
Eco Friendly
We are Tampa Bay's most eco-friendly dry cleaner, utilizing Green Earth & Seitz soap for our cleaning.
Customizable
You let us know how you'd like your laundry, down to the drying process, pressing, and starch.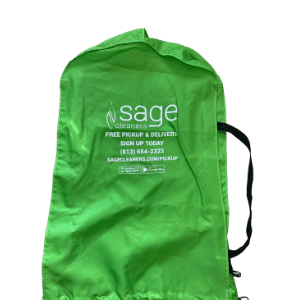 We utilize the most gentle cleaning process, leaving your clothes looking brand new for even longer.
Sage Cleaners is the most eco-friendly dry cleaner in Tampa Bay, utilizing Green Earth & Seitz soap for all cleaning.
We make laundry day into fun day with our unlimited laundry plans.? Just put anything you would normally put in your washing machine into our reusable bag & get it back in 48 hours.? Use it as much as you'd like for one flat monthly price.
Store Hours
Monday-Friday: 7am - 7pm
Saturday: 10am - 4pm
Sunday: Closed
Get our coupons & stay in the loop